Tire testing equipment exclusively designed and manufactured
By Dufournier
The Skid Trailer has been designed to carry out tire testing on paved surfaces in various conditions :
dry
wet or self-wetted
locked wheel
longitudinal, transversal or combined grip
The Skid Trailer system is composed of an instrumented tow vehicle and a 2 or 6 axes trailer fitted with a central test-wheel. Electronic controls and monitoring can be performed from the tow vehicle using the control panel or the embedded IT system. Accordingly, the user can adjust the different tests following his needs and experimental design.
What are the benefits of the Skid Trailer ?
Our Skid Trailer allows to characterize the forces and moments of the tires on real ground.
This high-precision equipment offers smoothed load and fully automatized maneuvers.
In addition, the Skid Trailer allows measurements on all types of configurations: braking, transverse slipping, camber, combined; all on dry or wet ground.
An easy and fast measuring equipment
The Skid Trailer by Dufournier requires only one operator during the tests. Fast to use, it only takes a minute to change a wheel during a test session making it the best solution to test several tires in a row.
Also, the Skid Trailer makes it easy to adjust load, drift, camber, braking and tire pressure while driving.
Its various pre-recorded programs allow you to perform a large series of measurements in a single run, without having to stop and go between each measurement.
The machine is approved for a road use (homologation) and can be driven with a regular driver's license (BE Class)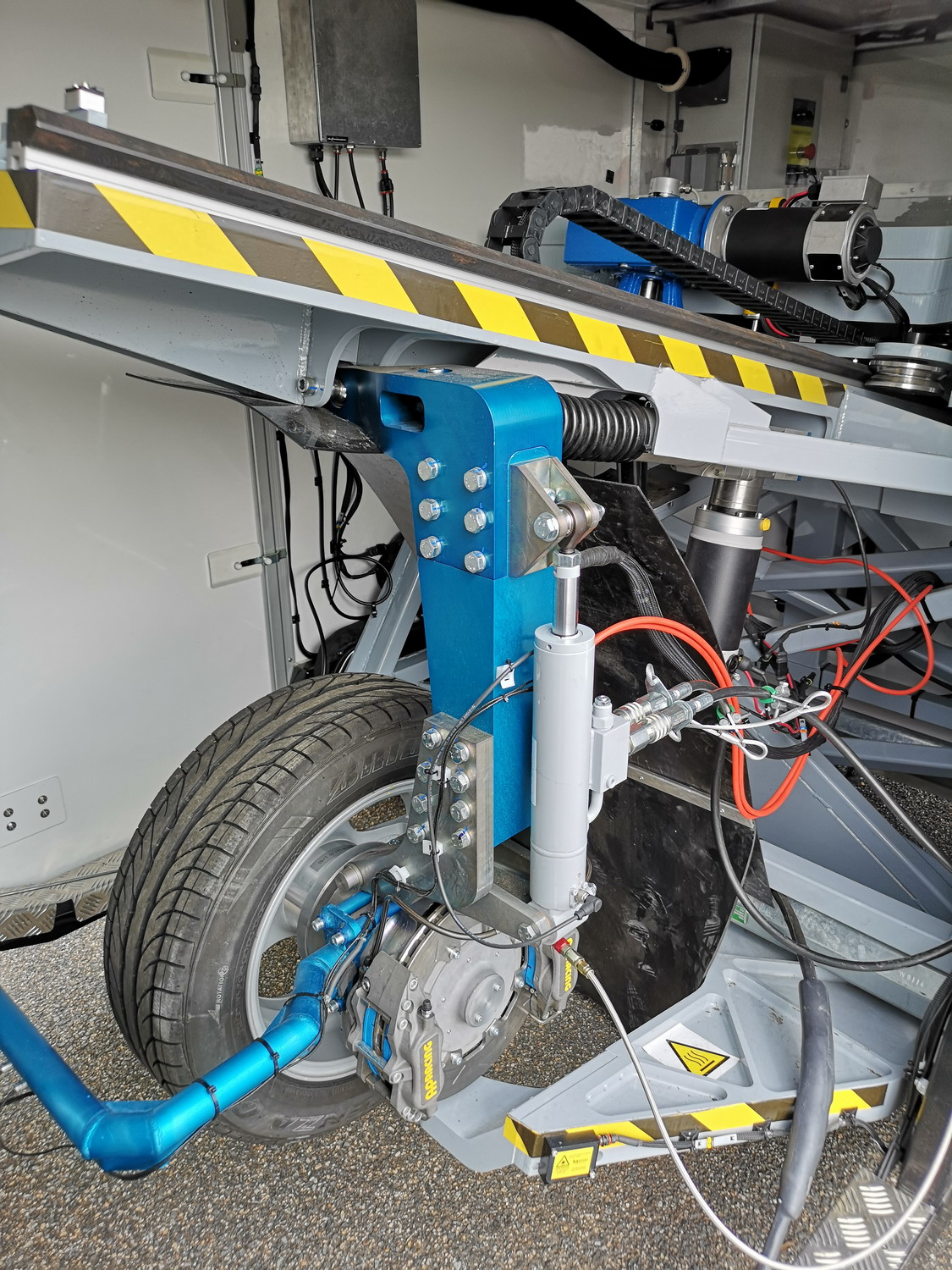 Main characteristics
6 Axes Hub sensor - Forces & Moments measurements for C1/C2 tires
Adjustable vertical load from 0 to 1500 kg (2000kg on demand)
Transverse slipping, camber and vertical load are electronically controlled
Longitudinal and transverse slipping speed + GPS location
Data acquisition system + computer
Fully encased trailer chassis two axles and three doors access
Trailer Homologated for road use (France) - Option
Truck driving license not needed - EB driving license (France)
You want to get in touch with Dufournier for the procurement or purchase of a Skid trailer?