AI3T : Automated indoor
tire test track
Among our test equipment, DUFOURNIER has designed, developed and manufactured its own revolution: the Ai3T automated indoor tire test track.
The Ai3T has been officially launched by Mr Arnaud DUFOURNIER at Tire Technology Expo 2019 in Hannover.
This automated tire test machine for automobile and commercial vehicle tires (category C1 and C2) operates entirely indoors for a full control of the test conditions (temperature, rain, wind, air humidity (ISO independent conditions).

This one-of-a-kind machine allows to perform tests 24/7 all year long.

Our extensive experience in the field of tire testing makes us the Tire Test Specialist.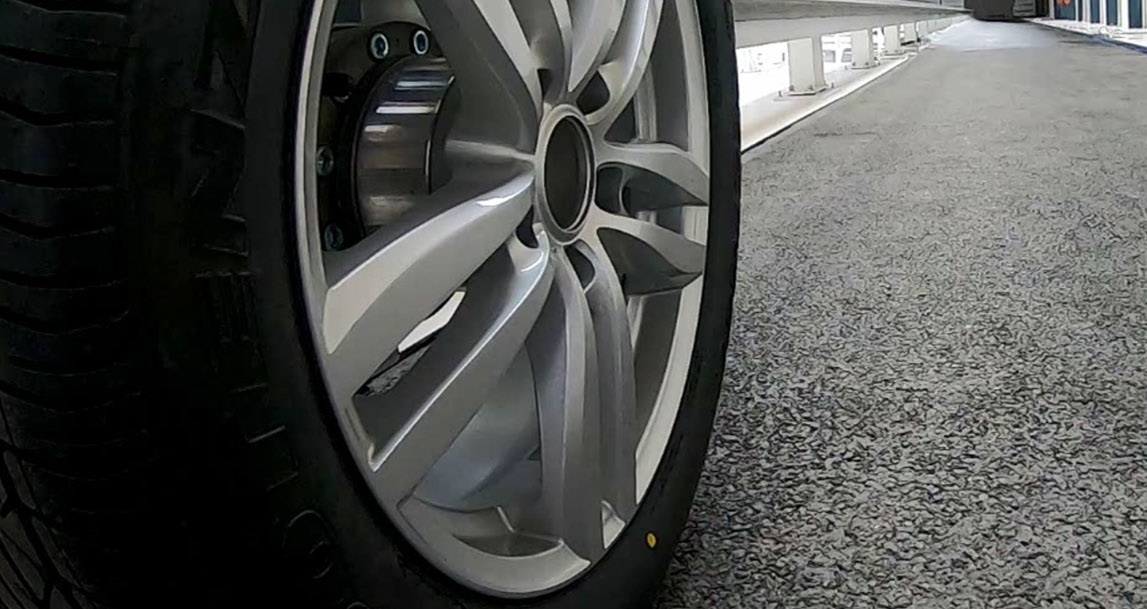 Which tests can be done on the indoor track?
We can accurately evaluate the performance of a tire in terms of forces and moments in all configurations: braking , cornering, camber at various loads, speeds and pressures.
All these tests are performed in dry or wet conditions for a complete analysis.
The tests we can perform:
Dufournier's high-technology tire testing facilities
ISO 17025 certified our tire testing facilities are located in an 8,000 m² building. Our 75m long automated indoor tire test track includes a computer-controlled test cart that measures the forces and moments generated by the tire as it travels back and forth on the track.
The asphalt track complies with the European standard ECE R117 and has a watering system to simulate wet conditions.
Automated Indoor Tire Test Track: Accurate and Versatile Tire Tests
With our automated indoor tire test track, we can measure the tire performance in various configurations and conditions.
The target speed is set beforehand.
The automated & instrumented carriage of the Ai3T equipped with the test tire is launched to quickly reach the target speed.

Forces and moments generated by the interaction between the tire and the ground are measured during braking.
Speed, load and pressure are configurable at will and can be implemented on dry or wet grounds.
Moreover, for a wet grip test, the height of the water can be regulated very accurately, ranging from 0.5 mm to 3 mm.
Want to know more about our test machines? Contact us and let's talk about your project!